"That amazing look he did not achieve it with his muscles, but with his soul."
I choose not to share the hundreds of jokes, observations and comments about the "Greeks" who suddenly learned to play tennis and sit down on Sunday night to watch Tsitsipas. I choose to remember the distant 1987 (okay, I don't remember exactly, I was 4 years old...) where an entire country learned and loved basketball and since then entire generations began to be more actively involved in the sport, resulting in Greece becoming one of the European superpowers both at collective and national level!
Along with these successes, the development of sports education and culture brought many good things to those who are actively involved in a sport. At the other end of the spectrum, of course, there is also the huge sub-culture of fanatical fans, but this text aims elsewhere and not at spitefulness...
So I choose to see the positive side when thousands of people instead of watching another Sunday night "television" with what the system serves them, chose to watch the tennis final with Tsitsipas last night (I searched too to tell the truth but I didn't find where I was...).
I choose to admit that these days I watched athletics again after many years and I really enjoyed it. Where Greece equaled their best performance on the medals table. Back then, in 2002, Greece was preparing for the Olympic Games in Athens and a great burden had fallen on sports and it is understood that the conditions that existed 16 years ago have nothing to do with today... Nevertheless, in some "magical" way, Greek athletics revived and gave us surprising moments of joy in a time when blackness has darkened the souls of most.
And you will tell me, all the troubles of the world we go through in Greece, the medals will save us???
Yes is the answer I choose to give.
This year the Greeks have huge and endless distinctions in sports that few watch, in swimming, rowing, tennis, beach handball, beach volleyball and many more "unknown" sports to the general public. Having personal experiences and knowledge from beach volleyball where the rising duo of Manavis - Tsopoulos brought home a medal in an international tournament after many years, I can say that the athletes really give it their all, with little to no financial or any support from the federations or the state and most pay out of pocket or beg to find sponsors to make ends meet. They participate in international tournaments alone, without coaches as the costs are prohibitive and of course without the accompaniment of a medical team.
I choose to close this (somewhat confusing, I confess, as it is spontaneous and on the boil) text with some excerpts from the interview of the coach of the National instrumental men's team, Dimitris Raftis, after the conclusion of the European championship in Glasgow, which was published today on contra.gr. Keeping the phrase to myself: "That amazing look he did not achieve it with his muscles, but with his soul." Because only with soul and passion can one reach the top and stay there!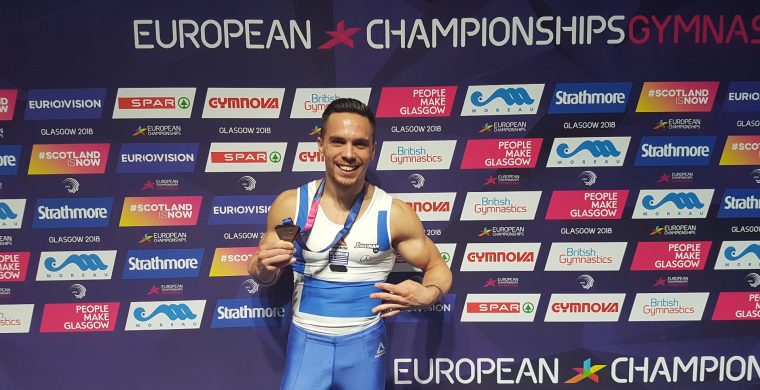 Excerpts from the interview:
…… "Some scientists claim that there is no soul. But if they saw what Lefteris went through in the last six months with the injury problem, they would now change their minds. Whoever does not believe in the existence of the soul, let him look at Petrounias. This amazing look he did not achieve it with his muscles, but with his soul. The congratulations belong to the athlete himself and to the doctor Odysseus Paxinos, who brought him to this very good condition in the final. I don't think I helped anywhere this time", he commented about the "lord of the rings", who last Thursday morning (09/08) was even thinking about withdrawing from the qualifier due to severe shoulder pains, but three days later he put on a show of strength in the final and won his fourth consecutive European title.
…… The coach who has celebrated nine European titles, five with Vlasis Mara and another four with Lefteris Petrounias, bringing two Greek athletes into the top seven European specialists of all time, also referred to the feelings that this special "award" creates for him »:
"I feel proud... It's a great reward. All I recognize in myself is the proper management of these two athletes, which is by no means an easy task. You need to land them when you have to, to command them in the course of time, to have a proper distribution of fatigue and rest, so that they succeed in having a duration in their career. Duration is the element that establishes an athlete and these particular athletes have proven to me that they have it"…..
…… The epilogue was written… after music, as Mr. Raftis made the established - after every great success - dedication with meaning, choosing lyrics from the song "My ships are burning": "The song says 'out of stubbornness and madness will I'm living in this country until I find water, because I belong here' and that's exactly what we're doing... But, in our case, the next verse does not apply, which says 'the children in the stands are your only hope'. Our children's place is on the playing fields, that's where we have to keep them. We must not allow them to leave and go to the stand. Everyone who says that children are the future, let them feel the meaning of the phrase and do something more for the children and for the future."